Ben Wish honored by Massachusetts Lawyers Weekly as a 2021 Lawyer of the Year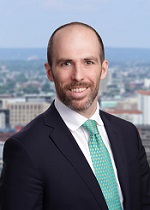 Massachusetts Lawyers Weekly has chosen Benjamin J. Wish as one of its 2021 Lawyers of the Year for a $30 million settlement he obtained on behalf of a Massachusetts-based auto executive resolving a lawsuit against various defendants for breach of contract and other claims.
The multi-million-dollar settlement is believed to be the largest in Massachusetts in 2021, according to the publication, which features Mr. Wish in its Feb. 14 issue.
Mr. Wish, a partner at the firm, was lead counsel in the matter. Other attorneys at the firm working on the case were Howard Cooper, Alycia Kennedy, and Rebecca O'Brien.
The firm's client, David Rosenberg, is a longstanding owner and operator of various auto dealerships in Massachusetts and other New England states.